Buck Showalter fired as New York Mets manager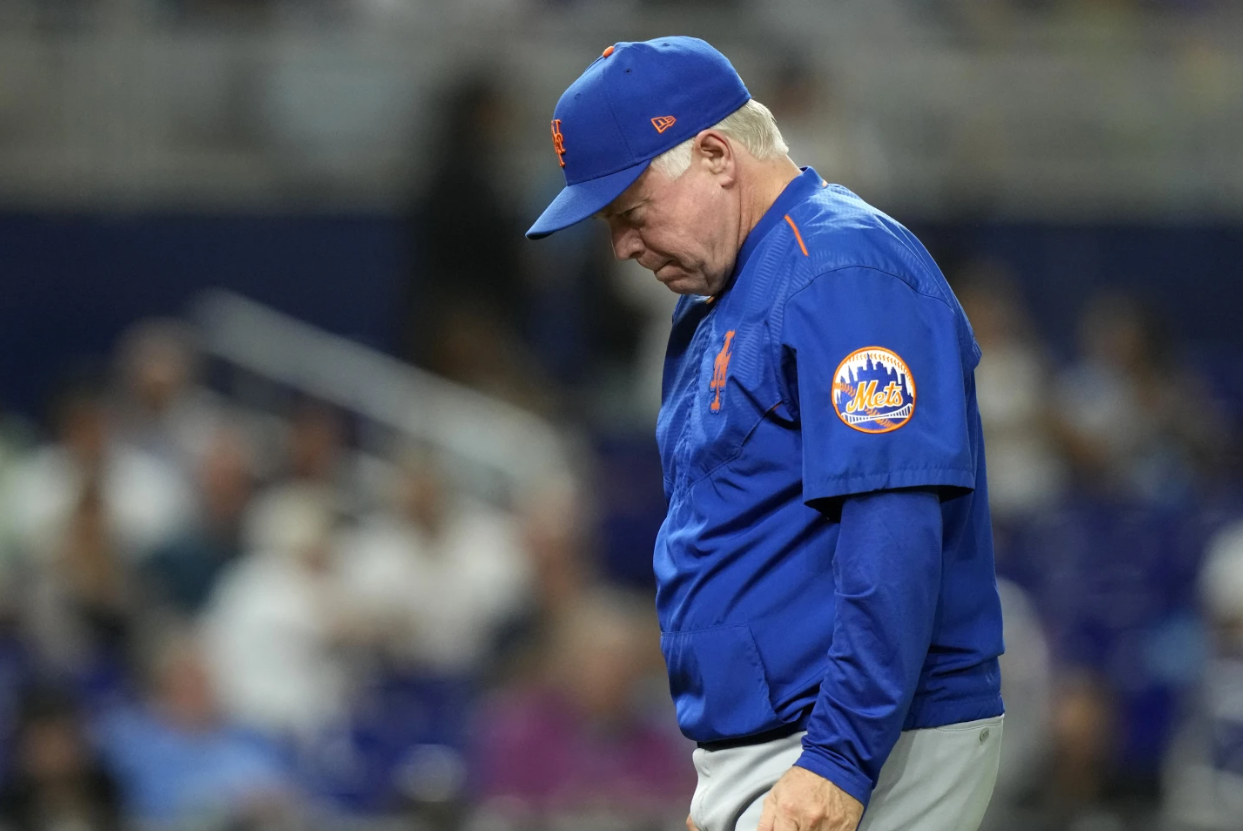 Buck Showalter was fired Sunday as New York Mets manager after a disappointing season in which baseball's highest-spending team tumbled from contention by midsummer.
The 67-year-old Showalter said before Sunday's game against Philadelphia that he will not return next year, and a few minutes later the fourth-place Mets said the team had decided on the change. New York entered 74-86 and 29 1/2 games behind NL East champion Atlanta.
"I was honored to get a chance to manage a second New York team. I'm proud of what the Mets did. We won close to 180 games in two years. Especially last year, as much fun as I've ever had in the game. It reminded me why I've always loved this kind of work," said an emotional Showalter, who piloted the New York Yankees in the 1990s — the first of five major league clubs he's managed.
"I wish things could have gone better this season because the Mets fans deserve that. In my heart, I always wonder what could have happened if this happened or that happened, but I try not to live in that world," he added. "It's not the ending I wanted, but I still love this city and the players.
Showalter planned to manage the Mets on Sunday at Citi Field.
On Monday, New York is expected to announce the hiring of David Stearns as president of baseball operations above general manager Billy Eppler, and Showalter's departure with a year remaining on his three-year contract clears the way for Stearns to pick the next manager.
"We are heading in a new direction, with a new president of baseball operations and we let Buck know we'll be parting ways. We will begin the search for a new manager immediately," Mets owner Steve Cohen said in a statement. "Buck is a generational manager, and we value what he has done for our team, including leading us to a 101-win season and postseason berth last year. The commitment and heart that Buck brings to the game will be felt by our organization for years to come."
Showalter took over as manager before the 2022 season and led the Mets to a 101-61 record last year, when he was voted NL Manager of the Year. New York lost to San Diego in their wild-card series, then added three-time Cy Young Award winner Justin Verlander to its pitching staff during the offseason. The Mets boosted their payroll to a record $355 million on opening day, but wound up dealing veterans ahead of the Aug. 1 trade deadline.
"As we look toward the next chapter for the New York Mets, we felt that making a managerial change was the right course of action," Eppler said in a statement.