Yankees' Aaron Boone suspended 1 game by MLB for conduct toward umpires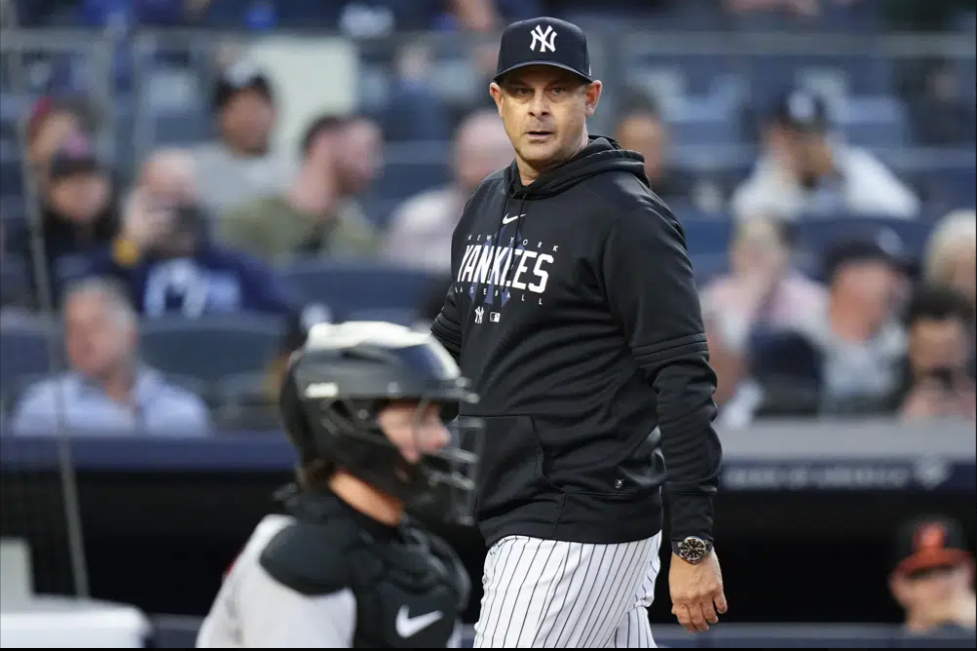 Yankees manager Aaron Boone was handed a one-game suspension following his latest ejection and admitted his arguments may have created an image in the minds of umpires.
"Well, I think I've earned that reputation," he said Friday before Major League Baseball suspended him for one game and fined him.
Michael Hill, MLB's senior vice president for on-field operations, made the announcement. MLB said the discipline was "for his recent conduct toward major league umpires, including the actions following his ejection from Thursday night's game against the Baltimore Orioles."
Boone was forced to sit out Friday night's series opener against San Diego.
He was ejected for the major league-high fourth time this season, the most among big league managers, when he became angry with Edwin Moscoso's strike zone during a 3-1 loss. Boone held up four fingers while arguing in the middle of the third inning, signaling Boone thought the plate umpire missed four pitches.
Boone also was angry Moscoco walked away during the argument and first base umpire Chris Guccione, the crew chief, stood between the two when Boone tried to re-engage Moscoso. Boone may have gotten spit on an umpire while arguing.
"Do I think it's leading to a quick hook? Not necessarily," Boone said. "Maybe I'm delusional and that I did more than I think. I don't think that's the case. But, no, I don't think I'm being targeted by umpires going in, like they're not going to tolerate certain things. I think I'm treated fairly. "
Still, he admitted the frequent arguments may have had an impact.
"I do think there is probably the occasional bias that exists," Boone said. "We're human beings. I'm sure certain people don't like hearing from me."
Boone was ejected against Cleveland on April 12, against Toronto on May 15 and against Cincinnati on Sunday.
His 30 ejections are sixth among current managers, even though his 720 games entering Friday were far fewer than those who have more ejections: Bruce Bochy (78 in 4,081 games), Bob Melvin (55 in 2,830), Terry Francona (47 in 3,509), Bud Black (35 in 2,283) and Buck Showalter (34 in 3,282).
Boone is averaging an ejection every 25 games, a far faster pace than Bochy and Melvin (52), Black (65), Francona (75) and Showalter (97).
Cincinnati's David Bell had 23 ejections in 596 games, an average of one per 26 games.
"I don't like that it's happened a few times this week, and I'd like to not get ejected and hopefully I can start a long streak of not getting ejected," Boone said. "I'm not necessarily afraid to, but no, it's not my intent to get ejected and I don't want to. And hopefully I won't for a while."